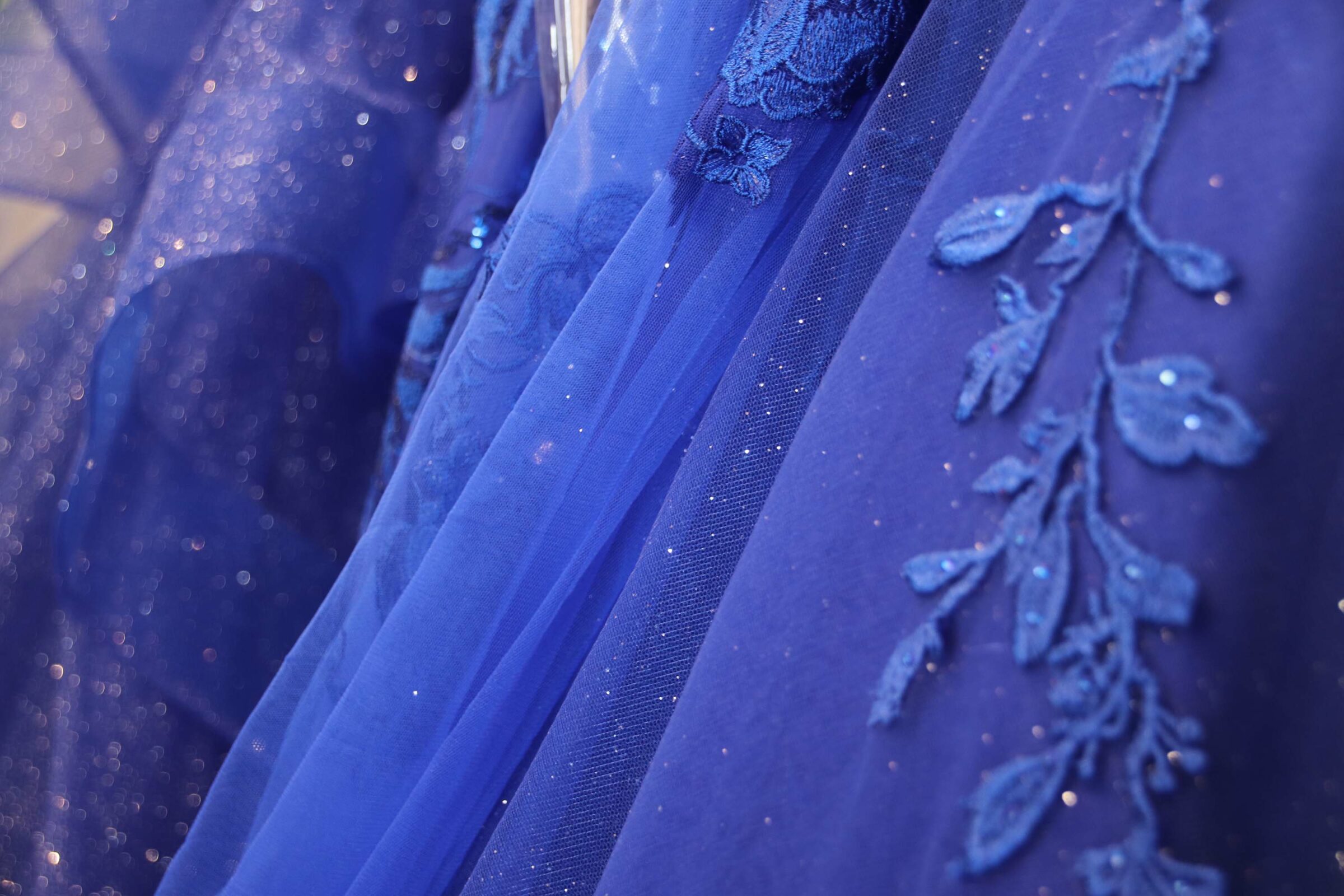 People
Princess For A Day
Alysha loves beautiful dresses. Using her computer, she researches wedding and ball gowns and is drawn to dresses that are big and fluffy. Her love of gowns also informs her own wardrobe. Alysha will often wear a lovely dress with matching accessories and usually in one of her two favourite colours: blue or purple. Alysha knows how to make a statement with her clothing: it says I'm confident, I take care of how I present myself, and I am beautiful!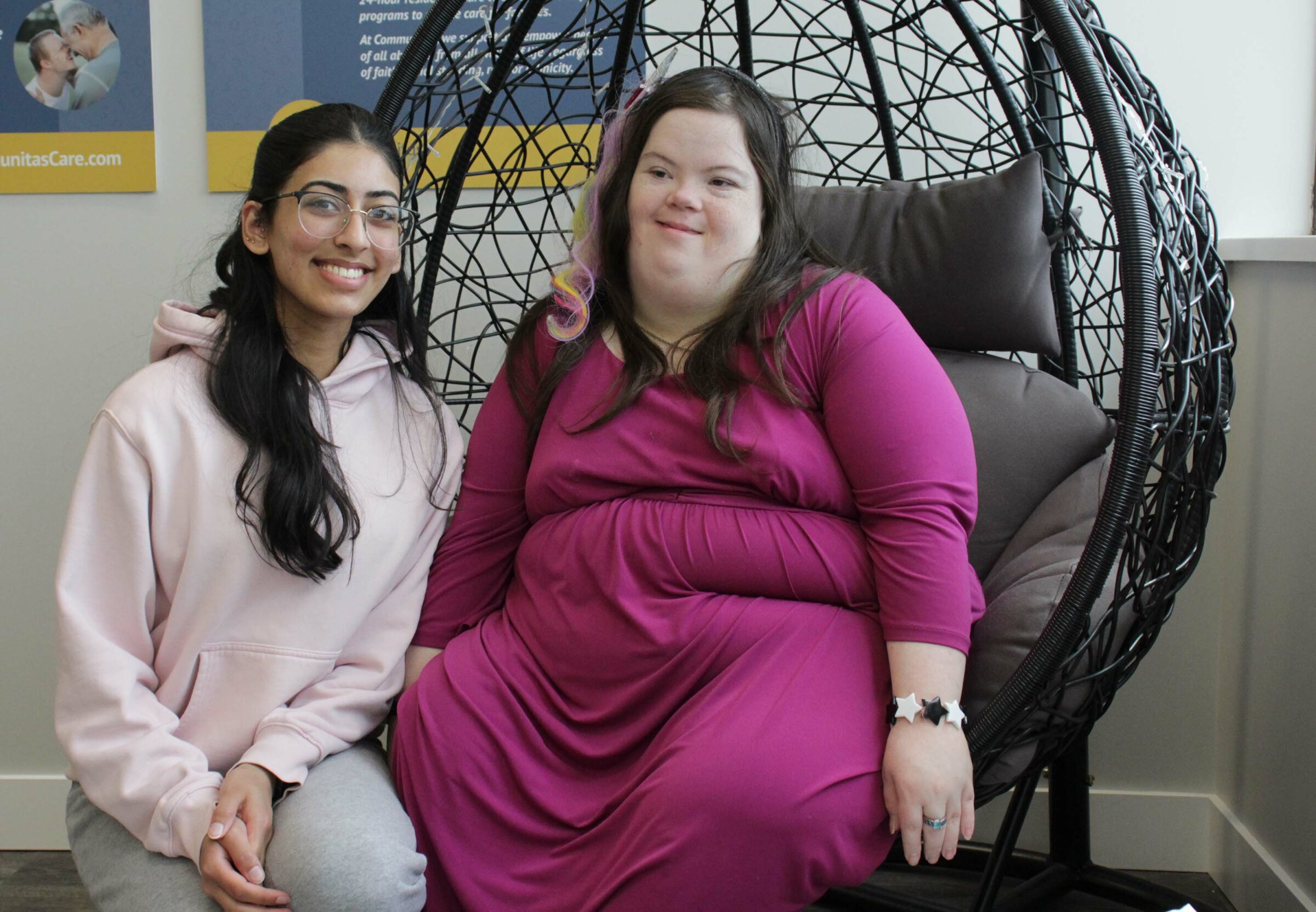 Harmandeep is Alysha's community inclusion worker at Communitas Supportive Care Society. They spend time together weekly and one of the places they always pass by is Champagne and Lace, a bridal and gown boutique in Abbotsford.
"They have a different display of dresses in their windows each week and we always stop and look, choosing which one is our favourite," Harmandeep explains.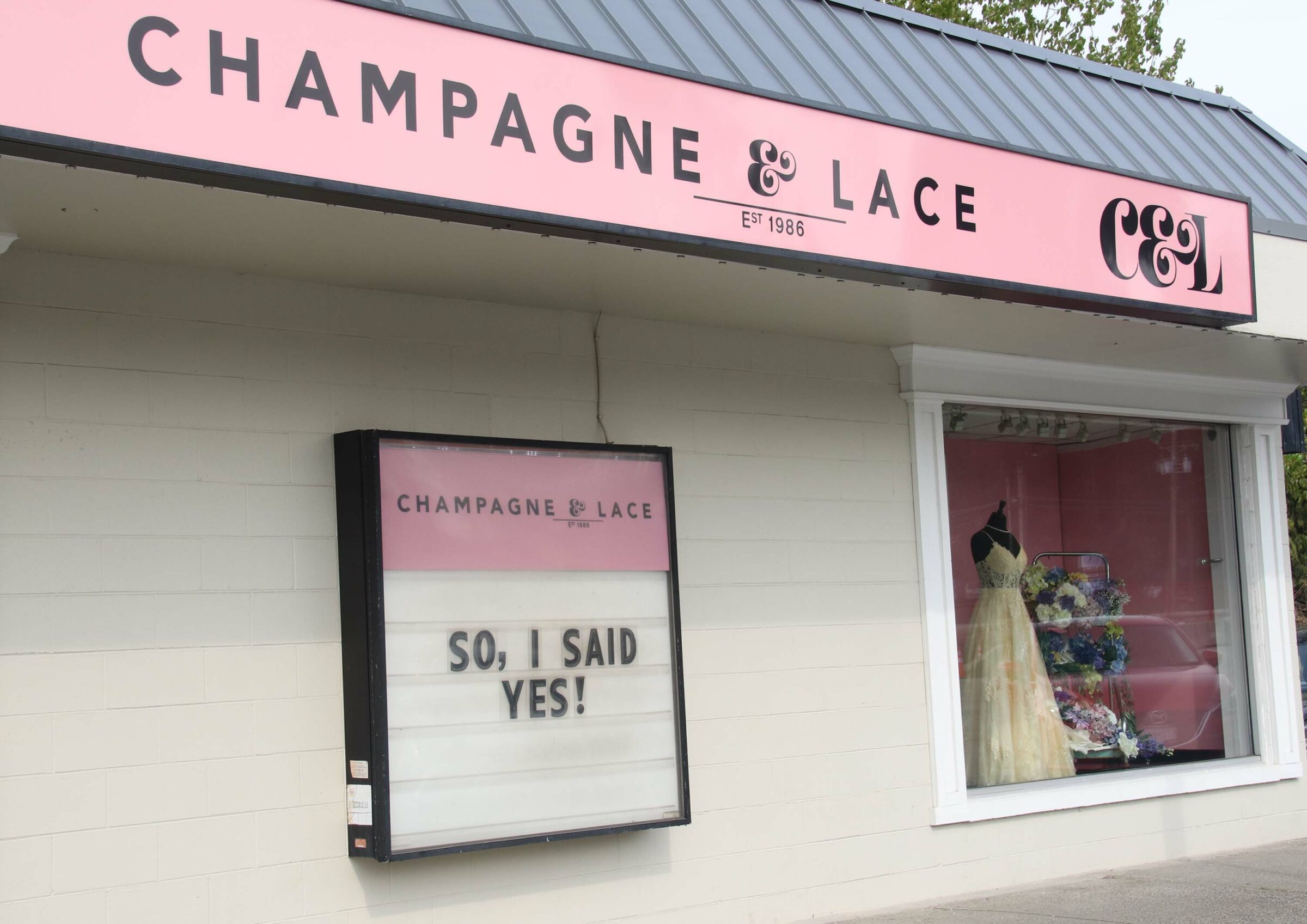 Recently, when they passed by the shop, the display window was filled with dresses in blue and purple, making Alysha very happy. After having lunch, the two decided they'd go back to the boutique and just browse through the gowns.
"Just the thought of being able to physically go and look at so many beautiful dresses made Alysha so, so happy," Harmandeep says. "When we got there and started looking through the all the dresses, she was just overwhelmed with the variety. She couldn't stop saying 'woah'."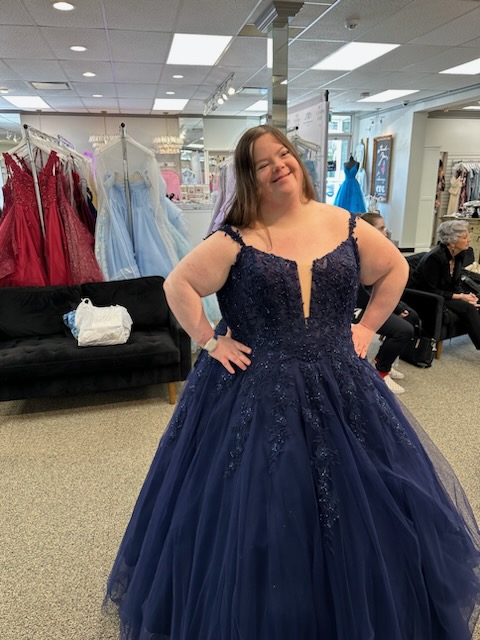 Emily is a consultant with Champagne and Lace and was working on the day that Alysha and Harmandeep stopped by to browse. She says they timed their visit perfectly as she was between appointments and was able to give Alysha the attention she deserved. When Alysha asked if she could try a couple of the dresses on, Emily immediately said yes, finding a dress in each of her favourite colours and helping Alysha with the fitting. Alysha could hardly contain her excitement.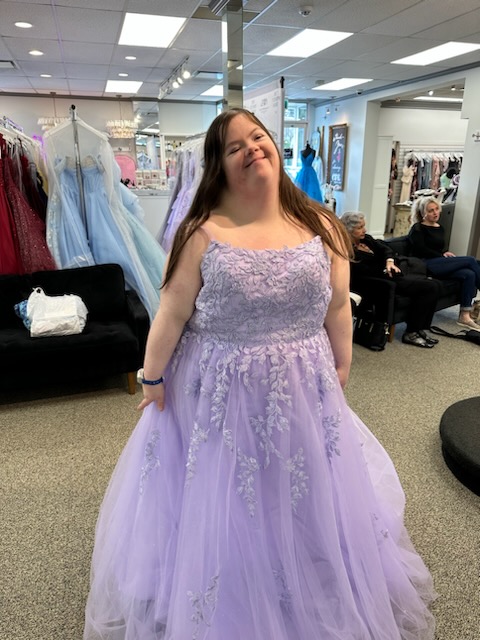 "It was my first time ever visiting the store and it was so much fun being able to touch the dresses and pick out my two favourite colours to try on," Alysha says.
The dresses made Alysha feel like a princess, something that warms the hearts of the staff at Champagne and Lace.
"Our goal here is always to make a person feel beautiful," Emily says. "I'm so glad that Alysha felt that. It was just as much fun for me as it was for her!"
The experience impacted Harmandeep too. Seeing Alysha's reaction as she looked at herself in the mirrors, Harmandeep could tell that Alysha actually felt like a Disney princess. She is so grateful to Emily for helping Alysha have such a wonderful day.
"The smile on Alysha's face was truly something that made me personally so happy," Harmandeep says. "The staff were just beyond generous and helpful."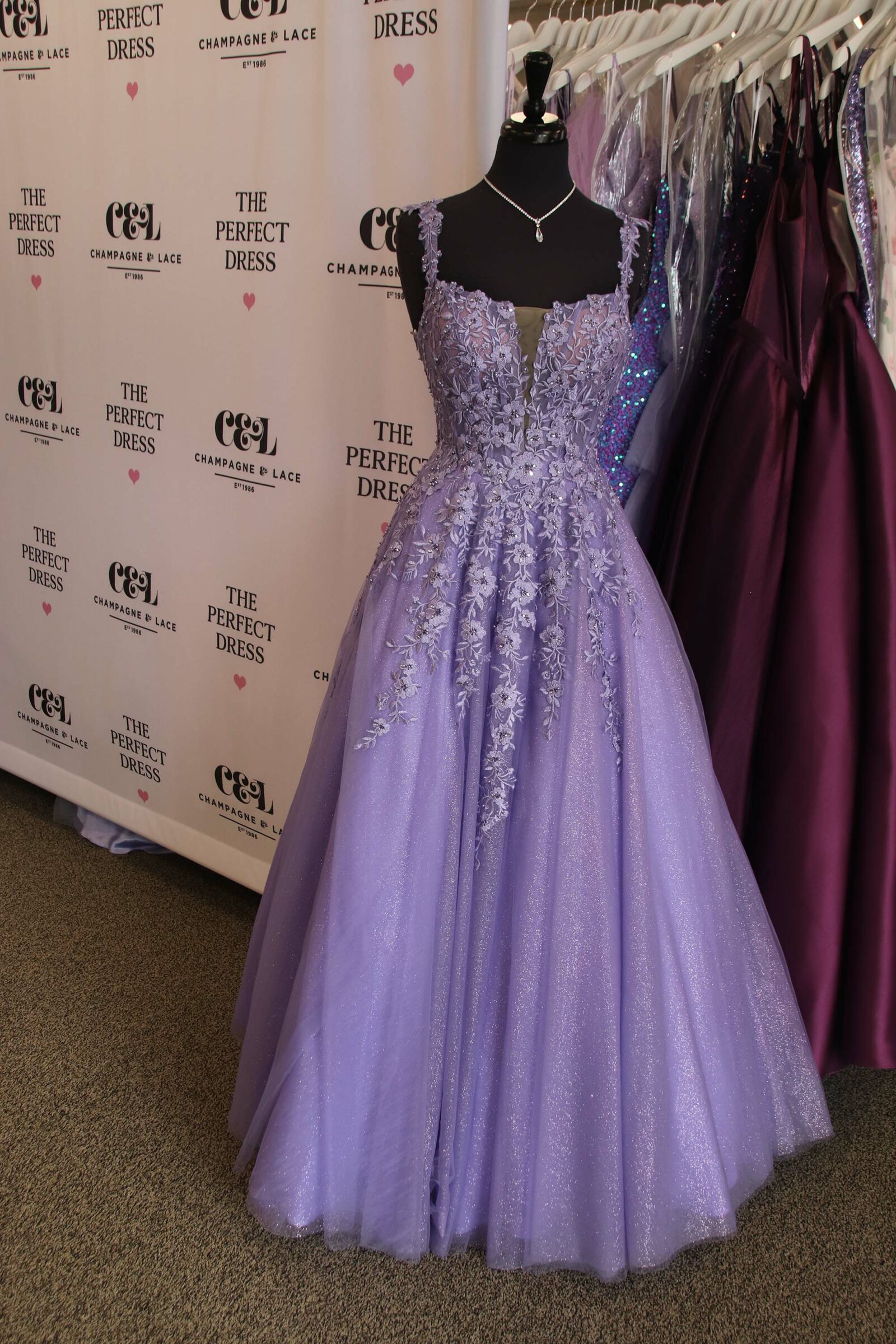 Now that Alysha has had the opportunity to try on the gowns with the help of a consultant, she can confidently recommend Champagne and Lace to anyone looking for a beautiful gown.
"They have so many dresses and wedding gowns," Alysha says. "People can buy them for their wedding or parties and proms and they have so many different colours and styles."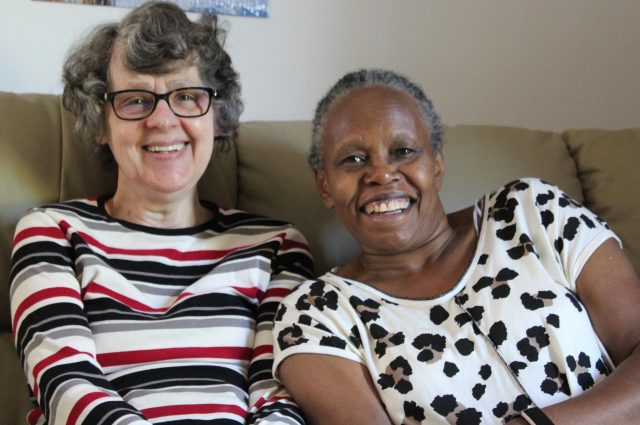 Betty and Grace are like sisters, enjoying life together in a Home Share that they say has shown them just how good God is.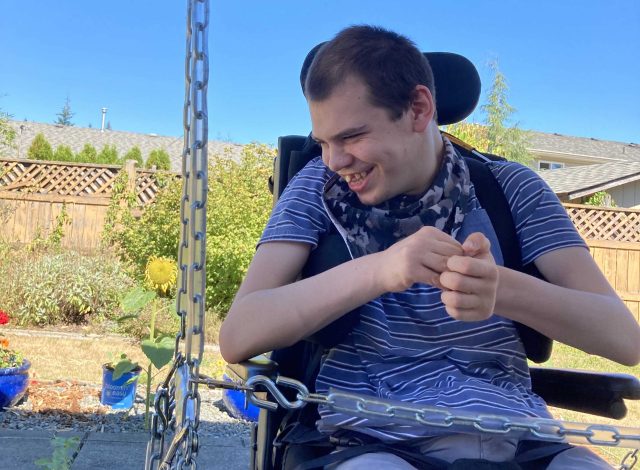 When the pandemic began to impact the activities that Corey enjoyed, his family and staff found a perfect solution.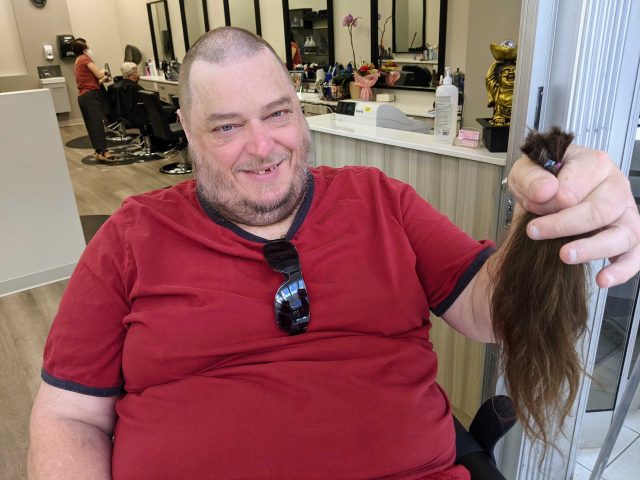 After waiting for more than a year, Garry finally got a haircut. The reason he waited so long might surprise you!